Admission Guidance Essay funding for International Students
Overview
Brief Description
University or Organization: Admission Guidance
Department: NA
Course Level: Undergraduate and Postgraduate
Award: $1000
Access Mode: Online
Number of Awards: NA
Nationality: International
Eligibility
Eligible Countries: Submissions from all around the world are acceptable
Acceptable Course or Subjects: The sponsorship will be awarded for undergraduate and postgraduate study in any subject
Admissible Criteria: To be eligible, the applicants should meet all the following:
Students who have been approved admission to any accredited and recognized American university can avail the program. However, preference will be given to applicants going to Ivy League colleges, for instance:- Harvard, Princeton, Yale, University of Pennsylvania, Columbia University, University of UK, and University of Sydney etc.
Students must enrol in an undergraduate/postgraduate course in the reputed United States (US)/United Kingdom (UK)/Canada (CA)/Australia (AUS) educational institute.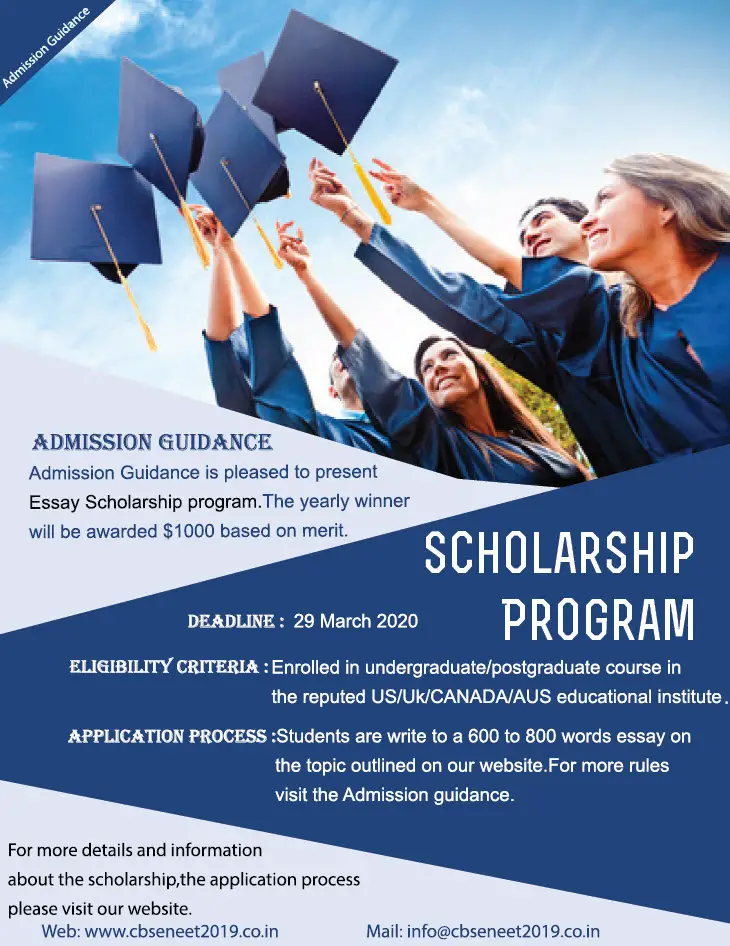 How to Apply
Applying for Admission Guidance Essay award is entirely stress-free. All you need to do is fill out the funding form thoroughly and write a minimum 600 to 800-word essay on "Why do you need this application ?"
The application is in online mode only. Personal details, for example, name, education qualification, contact information, background details are a must fulfil.
A short original essay must be written on the topic that specific by cbseneet2019.co.in. (Write up must be up to the mark with correct spellings, correct punctuation and grammar, and a proper sentence formation).
Entry Requirement: Candidates should be 18 years or older at the time of enrollment.
Language Requirement: Depending on your educational background and country of origin, you may need to provide evidence of your English proficiency to be able to study in the US, UK, CA, and AUS.
Benefits: Winner of the program will receive $1000 for their education expenses.
Visit Scholarship Website
---